Participatory Mapping Solution for Village Potential and Boundary
Keywords:
Participatory Mapping, Geographic Information System (GIS), Boundaries, Village
Abstract
A common problem in every village in Indonesia is that identification of borders between villages cannot be spatially depicted, one of the methods used to accelerate village boundary settlement is to use participatory mapping methods. Participatory mapping is a map-making process that attempts to make visible the association between land and local communities by using the commonly understood and recognized language of cartography. Participatory mapping is the bottom-up approach that's allows the all the villagers can draw the maps of their village In this study, application of Remote Sensing and Geographic Information System (GIS) allow to identify the boundaries of Campakamulya village, a comprehensive mapping of 329 Ha of village was conducted. In this case, community local knowledge of the village boundaries is very less, only a few elders of the villagers knew the boundaries of the village. With the maps of village boundaries that gather by participatory mapping method, knowledge of the boundaries of these village can be well documented. Participatory mapping method in determining the boundary of this village can correct the existing village boundary data in the government. This Participatory mapping activity can shorten the time for border survey activities and village potential.
Downloads
Download data is not yet available.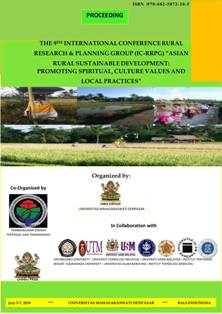 Downloads