DEVELOP BUILDING SYSTEM ARRANGE THE MANAGEMENT OF TOURIST DESTINATION BASE ON THE CUSTOM COUNTRYSIDE (COASTAL TOURIST DESTINATION CASE OF PANDAWA COUNTRYSIDE KUTUH, SUBDISTRICT OF KUTA SOUTH)
Keywords:
management of tourist detination, coastal tourist destination, Pandawa Beach
Abstract
Development ot Tourist Destination newly become the alternative which important progressively and insit on to give the new atmosphere with the fress and warm image and also avoid impression monoton. To realize the mentioned, hence research of system of management of tourist destination very urgen done owning special target of research, that is : (1) System analysis of environmental utilitas facility of Coastal Tourist Destination Pandawa Beach, (2) System analysis and pranata of management of Coastal tourist Destination management of Pandawa Beach, (3) Analysing storey level of tourist satisfaction to coastal touris destination of Pandawa Beach, (4) Analysing tourist expectation to Coastal tourist destination Pandawa Beach. This research is designed to develop build with the descriptive qualitatif approach. Population in this research is management of Pandawa Beach, domestic tourist and tourist of foreign countries paying a visit to Coastal touris destination of Pandawa Beach which its amount is boundless. Sample in this research is Coastal tourist destination management of Pandawa Beach, domestic tourist and foreign countries paying a visit to tourist destination Pandawa Beach of May until June 2018. Data colected in this research cover the data qualitatif and quantitatif. Data collecting done with the questionnaire allotedto Coastal tourist destination organizar of Pandawa Beach and tourist which is paying a visit to pay a visit to Coastal tourist destination of Pandawa Beach. Analyse the data use the descriptive analysis. Coastal tourist destination área of Pandawa Beach managed by BUMDA Kutuh, Badung dimiciling as Holding Company for all unit of effort custom society owned and managed by countryside Kutuh, Badung. Coastal destination management of of Pandawa Beach executed by Unit of effort Coastal Fascination of Pandawa Beach. All unit manager of effort this come from local sociaty of Countryside of Custom Kutuh, Badung.
Downloads
Download data is not yet available.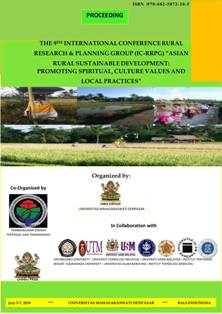 Downloads