Learning Animal Behaviour through Nyatua: Revealing the Values of Satua Bali
Keywords:
animal behaviour; values; satua bali
Abstract
One form of cultural heritage is satua bali. Animal behaviour can be learnt through satua bali. The purpose of this study is to identify the animal behaviour being describes on the animal-themed satua and to know the moral values in it. This research is a qualitative research. The subjects of the study were 30 students of biology education study programme. The data were taken by conducting observation, documentation and questionnaire, obtained by using three instrument types, namely; storytelling rubric, animal behaviour type observation guidance, moral values questionnaire. Data were analyzed using Miles and Huberman version which included data reduction, data presentation and conclusion. The validity checked by using triangulation techniques and deepening study of the material. The results showed that, satua entitled siap selem is the most widely contained animal behaviour than other six satua chosen by the students, that is about 26%. While the other satua only ranged in percentage 12,85% - 16,42%. 31,82% of the total 22 types of animal behaviour, having frequency above 50% to be appeared, ie; innate (69,44%), habituation (52,78%), innovation (88,98%), shelter-seeking (52,78% ), digestive (83,33%), social (77,78%) and resting (52,78%). The moral values of the six satua are varied, including the values of tolerance, self-discipline, work ethic and learning, responsibility, self-control, positive thinking, love and affection, mutual cooperation, solidarity, mutual respect and honesty. Every satua has the same main meaning: good will always win against evil, therefore satua is significance for the moral formation.
Downloads
Download data is not yet available.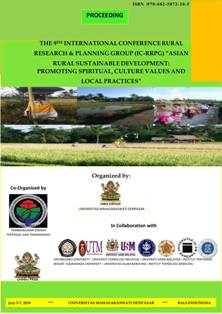 Downloads