Strategy for Agrimart Development of Bali's Superior Agricultural Products
Keywords:
Agrimart, Bali's superior agricultural product, Strategy, Development, Cultivation
Abstract
In anticipating and handling the free market especially with regard to imported agricultural products, it was necessary to increase the competitiveness of local agricultural products of Bali through Agrimart development of Bali's agricultural product. Every product should be marketed in Agrimart was a superior product under the guidance of product development by various parties in Bali. The objectives of this study was as follows. To identify the priority of local superior agricultural products for Agrimart, along with the maping to center location and potential of production in Bali. To identify the factors of strengths and weaknesses, as well as the opportunities and threats and so to articulate the strategy for Agrimart development. The data were obtained through survey in several production centers and the market of superior products in Bali, and survey to secondary data from related documents. The strategy was as follows. Increasing the quantity and quality of Bali's superior agricultural products through using partnership pattern, implementing biosecurity management, optimizing and dissemination of environmentally friendly cultivation technology, as well as involvement and incorporating of supporting agribusiness institutions. Prevention the altering function of agricultural land through formal and informal policy, as well as improvement of the farmer's agribusiness behavior. Increasing market share and connectivity of producers to potential market. To improve product quality and product standardization to augment the competitiveness of local products to imported products. To develop local component to substitute the import of several production inputs for the cultivation of agricultural superior products. To enhance the role of traders in promotion of local product. To maintain price stability at the consumer level. With regards to Agrimart's product distribution through retail business, in developing outlets of Agrimart, it required observing and optimizing: consumer loyalty, loyalty program, outlet location, human resource management, distribution and information systems, and (6) unique product specifications.
Downloads
Download data is not yet available.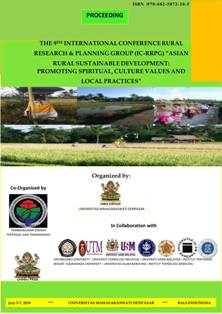 Downloads