Does ICT facilitate or impede rural youth migration in Indonesia?
Keywords:
Migration, Youth, ICT, Indonesia, Questionnaire survey
Abstract
It is common for rural Indonesian youths to migrate to cities or foreign countries to obtain jobs or educational opportunities. Losing these young villagers leads to decreases in vital rural development. Indonesia contains the largest population of Internet users even though the rate of Internet penetration is below Southeast Asian averages. Recent academic studies have revealed that Information and Communication Technology (ICT) impacts youth migration intentions. However, this discussion can be divided into two categories, as follows: 1) ICT facilitates emigration by providing increased opportunities for users to obtain information about the living conditions in target locations or by facilitating communication with people in their distant home villages. 2) ICT impedes emigration by enabling more active communication and providing increased opportunities for users to obtain information about available jobs within the village. However, there is insufficient evidence from Southeast Asian countries to support either position. This study therefore conducted a questionnaire survey in the village of Tumpukrenteng in Malang Regency, Indonesia to analyze the interrelationship between ICT use and migration intentions. A total of 60 people emigrated from Tumpukrenteng in 2015. However, 61 people immigrated into the village during the same period. After obtaining data from 142 youths under 25 years of age, we found that approximately 25% of respondents had migration intentions. There was no clear difference between the migration intentions of those who were Internet users and those who were not. However, a logistic regression analysis revealed that the migration intentions of Internet users were influenced by age, experience, Internet use frequency, degree of happiness, and frequency of communication.
Downloads
Download data is not yet available.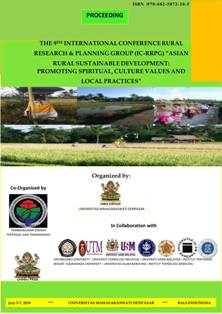 Downloads