Smart Village Development
Keywords:
Smart Village, innovation, development
Abstract
Innovation, creativity and productivity in rural areas are generally limits by human resources, funding and technology. High poverty in rural areas in Indonesia reach 13.47% (bps.co.id). This condition caused difficulties to the community's development, especially an improvement of their economy and welfare.
One of the efforts that can be done to overcome these problems is through the development of Smart Village. Smart Village is an ecosystem consisted of various elements to improve the community's quality of life and the village environment involving various stakeholders such as the government, private companies, academics and the village community's elements.
This research aims to review the concept of Smart Village development and practices in Indonesia by using one case study from the development concept to the implementation. In details, the study seeks to:
i. review the theory and concept of Smart Village development,
ii. identify components or elements of Smart Village,
iii. review the Smart Village development practices, and
iv. formulate the strategic recommendation of Smart Village development.
A case study data was obtained from Lingsar Village, West Lombok Regency, Indonesia. The analysis will be done with descriptive analysis approach.
Finally, the paper covers a case study of small village and information to support the practice of smart village implementation. The initiative will be useful as a reference for rural development science.
Downloads
Download data is not yet available.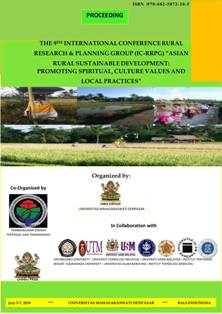 Downloads