INTRODUKSI TEKNOLOGI TEPAT GUNA UNTUK MENINGKATKAN KUALITAS DAN KUANTITAS BATU CADAS ABASAN SEBAGAI BAHAN BANGUNAN STIL BALI
Keywords:
Abasan rocky stone, appropriate technology, Balinese style buildings
Abstract
Batu cadas Abasan adalah sebuah produk bahan galian atau tambang yang memiliki keunggulan dari warna, tekstur dan kekuatannya, namun belum banyak dikenal dan belum digunakan secara luas. Hal ini disebabkan oleh terbatasnya teknologi yang digunakan menambang dan memotong batu sehingga menghasilkan kualitas potongan batu cadas yang masih kurang memenuhi standar penggunaan khususnya untuk bangunan berarsitektur Bali dan produktivitas yang rendah. Teknologi tepat guna pemotongan batu dalam bentuk pelatihan dan pendampingan telah diintroduksibagi UKM Paras Sari yang merupakan satu-satunya usaha tambang batu cadas tradisional di Dusun Abasan Sangsit Buleleng. Kegiatan initelah melibatkan Kelompok Tukang Bangunan Stil Bali di Desa Bongkasa Badung sebagai mitra yang menggunakan langsung, memperluas penggunaan, dan memperkenalkannya di Bali Selatan. Hasil pelaksanaan kegiatan introduksi teknologi tepatguna adalah (1)meningkatkan presisi dimensi potongan balok cadas (dari 30% menjadi 100%), (2) meningkatkan kuantitas produksi (dari 2.500 menjadi 3.200 biji/bulan/orang), (3) meningkatkan lebih dari 25% omzet penjualan batu cadas Abasan,dan (4) dua buah kompleks bangunan berarsitektur Bali tradisional yang menggunakan cadas Abasan sekitar 8.000 buah telah dikerjakan oleh Kelompok Tukang Bangunan Stil Bali dari Desa Bongkasa yaitu satu di Kota Singaraja (Bali Utara) dan satunya lagi adadi Ubud (Bali Selatan). Indeks kepuasan pelanggan terhadap kualitas pengerjaan bangunan stil Bali yang menggunakan batu cadas Abasan berkatagori sangat memuaskan yang direspon oleh pemilik bangunan dan masyarakat sekitarnya.
Rock stone of Abasan is a mining product which has excellences in color, tecsture and strength, but it has not yet been wellknown and not widely applied. This is caused by the lack of technology used for mining and cutting the rock hence the quality of the cutting rocks can not fullfill the standards application especially for Balinese architectural building and the productivity of the mining is low. An appropriate technology was introduced in form of training and coaching of cutting tool technology for small mining entreprises UKM Paras Sari, who is the only one traditional rock mining at Abasan Sangsit Village of Buleleng Regency. The activity involved A Skilled Builder Group for Balinese Style Buildings from Bongkasa Village of Badung Regency as a partner in order to directly uses of the rocky building material as well as to introduce the building material in Southern Bali. Results of the approriate technology inttroduction activity are (1) the increase the dimmension precision of rocky block cuts (from 30% into 100%), (2) the increase of production quantity (from 2,500 to 3,200 piecess/month/person), (3) the increase of selling omzet of Abasan rocky blocks more than 25% , and (4) two Balinese Style building complexes that used about 8,000 pieces of Abasan rocky blocks wreer already built by the Skilled Builder Group for Balinese Style Buildings (one at Singaraja City (Northen Bali), and the other one at Ubud (Southern Bali) The customer satisfaction index of the work  quality of the Balinese style buildings using the Abasan rocky blocks is in catagory of very satisfaction.
Downloads
Download data is not yet available.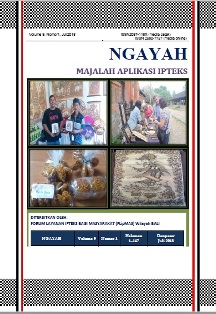 Downloads
How to Cite
Sudiana, I. K., Selamat, I. N., & Karyasa, I. W. (2018). INTRODUKSI TEKNOLOGI TEPAT GUNA UNTUK MENINGKATKAN KUALITAS DAN KUANTITAS BATU CADAS ABASAN SEBAGAI BAHAN BANGUNAN STIL BALI. Ngayah: Majalah Aplikasi IPTEKS, 9(1). Retrieved from http://e-journal.unmas.ac.id/index.php/ngayah/article/view/5