PKM PENGEMBANGAN MANAJEMEN TEKNOLOGI PENGELOLAAN BAMBU SEBAGAISUMBERDAYAALAMLOKALDANMEUBELKURSIDIKABUPATEN PINRANG PROVINSI SULAWESISELATAN
Keywords:
PKM, small business, bamboo crafts, chair furniture
Abstract
The target of the Community Partnership (PKM) program is an economically productive community group (small business). The aim of the program is to develop economically independent communities. The business partners in this program are the "Mentari" bamboo handicraft business and the "Shawwal" Chair Furniture belonging to Mr. Baharuddin Mamma and belonging to Mr. Rudy. The problems faced by the two partners are as follows: 1) equipment / equipment / production facilities need to be developed and inadequate, 2) opportunities for cooperation between the two partners need to be developed 3) the market is still limited and needs to be improved, 4) need to develop quality and quality production. With the above conditions, the PKM activities program implemented are: 1) adding more equipment / equipment / production facilities, 2) accommodating the cooperation of the two businesses, 3) developing the media and market reach, 4) more innovative production assistance through the cooperation of the two partners. The results that have been achieved are: 1) procurement of equipment / equipment / facilities to support the production process, namely the procurement of compressor machines, machine drills, work floors, soakingponds, 2) facilitating cooperation between the two partners to produce more innovative and competitive  production,  3)  making  website  marketing  media.  4)  An  innovative  type of production has been born in collaboration with the two business partners in the form of a sofa chair. This program is expected to be able to facilitate the development of partner businesses and then be able to provide a multiplier effect for bamboo handicraft businesses and the business of chair furniture in partnership with them.
Downloads
Download data is not yet available.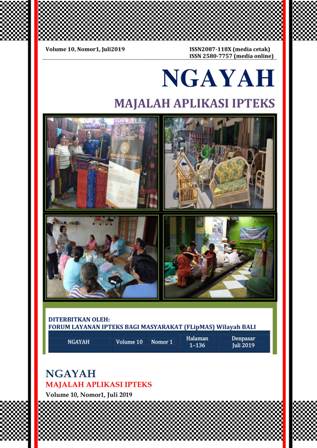 Downloads
How to Cite
MR, F., & Alkam, R. B. (2019). PKM PENGEMBANGAN MANAJEMEN TEKNOLOGI PENGELOLAAN BAMBU SEBAGAISUMBERDAYAALAMLOKALDANMEUBELKURSIDIKABUPATEN PINRANG PROVINSI SULAWESISELATAN. Ngayah: Majalah Aplikasi IPTEKS, 10(1). Retrieved from http://e-journal.unmas.ac.id/index.php/ngayah/article/view/389