USAHA LOLOH KUNYIT KOMUNITAS KOLOK BERBASIS POTENSI LOKAL DI DESA BENGKALA, BULELENG, BALI
Ni Wayan Arini

UNIVERSITAS PENDIDIKAN GANESHA, BALI

Dewa Bagus Sanjaya

UNIVERSITAS PENDIDIKAN GANESHA, BALI

Dewa Nyoman Sudana

UNIVERSITAS PENDIDIKAN GANESHA, BALI
Keywords:
turmeric loloh business, kolok community, competence local
Abstract
The aim of this activity was to empower the kolok community through making local turmeric loloh based on the potential in Bengkala Village. Kolok community development is carried out with the guidance of Competency Standards (SK) and Basic Competencies (KD), then translated into the Learning Implementation Plan (RPP) skills. This empowerment activity has multiple benefits, namely complete illiteracy, and independent business skills. As a kolok community independent business with the technical implementation as follows. (1) Expressing the desire to try the kolok community based on their interests and potential, (2) Practicing a skill that has the opportunity to become a business field in accordance with available local interests and potential. The approach used in this activity is a pedagogical, functional, and thematic approach. The methods used in learning activities are lectures, discussions, and direct practice. The results of the activity showed that the kolok community had hygienic skills and variety in taste. Besides skills, it also adds income, and completes independent business literacy (KUM).
Downloads
Download data is not yet available.
References
Agoes, Azwar. 2010. Tanaman Obat Indonesia Buku 1. Jakarta: Salemba Medika. Astawan, Made. 2006. Membuat Mie dan Bihun. Jakarta: Penebar Swadaya.
Badan Pusat Statistik. 2010. Bali Dalam Angka 2010
Direktorat Pembinaan Pendidikan Masyarakat Dirtjen Pendidikan Anak Usia Dini, Nonformal dan Informal Kemdiknas.2011. Keaksaraan dasar dan Keaksaraan Usaha Mandiri. Jakarta: Kemdiknas.
Departemen Perdagangan Republik Indonesia.2008. "Pengembangan Ekonomi Kreatif Indonesia 2025 : Rencana Pengembangan Ekonomi Kreatif Indonesia 2009 – 2025"
Kementerian Koordinator Bidang Perekonomian. 2011. Pokok-Pokok Masterplan Percepatan dan Perluasan Pembangunan Ekonomi Indonesia tahun 2011-2025 disampaikan dalam Rakernas Kementerian KUKM tanggal 14 Mei 2011 di Jakarta.
Mahendra. 2005. Care your salf: Diabetes Mellitus, Jakarta: EGC. Maulana.
Profil Desa Bengkala 2016.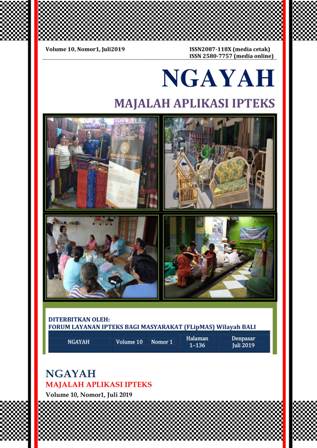 How to Cite
Arini, N. W., Sanjaya, D. B., & Sudana, D. N. (2019). USAHA LOLOH KUNYIT KOMUNITAS KOLOK BERBASIS POTENSI LOKAL DI DESA BENGKALA, BULELENG, BALI. Ngayah: Majalah Aplikasi IPTEKS, 10(1), 110-117. Retrieved from http://e-journal.unmas.ac.id/index.php/ngayah/article/view/386