PKM KELOMPOK USAHA PENGRAJIN KURSI ROTAN DI KELURAHAN LIBUO KECAMATAN DUNGINGI KOTA GORONTALO PROVINSI GORONTALO
Keywords:
Craftsmen, Rattan Chairs, Production Management, Mechanization, Vertical Marketing
Abstract
A rattan chair production by a joint business group engaging Mohimondalo and Iloheluma has been conventionally operated this far.  This rattan production run by craftsman is taken through direct orders by clients.   The production has not been supported by a mechanical technology so that it impacts on a lengthier production time consuming.  This community partnership program aims to introduce the mechanical technology equipment in the rattan chair production process, and to develop the product models of rattan chair and its marketing strategy. The program implementation methods are (1) the introduction to production management in which the continuous process production model allows understanding towards the production planning pattern covering the planning and the monitoring of the production process in relation to raw material stock, types of product, and the number of products produced in the on-going period and in the future, (2) the mechanical technology dissemination through workshop and assistance of mechanical equipment use which enables workers to have understandings about the equipment use for a better skill in the application, (3) the workshop of the latest rattan chair model development, and (4) the assistance program of the marketing strategy.  The outputs of the program indicate that in case of production management aspect, there has been a raw material stock which ensures a sustainable production in a scheduled period so that the production process should no longer rely on clients' orders, the workload distribution of the workers is  proportionally based on skills.  In the production technology aspect, the workers have benefitted the use of seal knife, compressor engine, air stapler, and drilling machine, and been able to applied binding techniques of rattan connections.  The use of mechanical technology equipment has impacted on faster production by 1-2 days consuming.  In the other production aspect, there has been a development of the latest rattan chair model labeled as voltron model for more ergonomically modern living room furniture.  In case of marketing strategy, there has been cooperation with furniture stores through vertical marketing system.
Downloads
Download data is not yet available.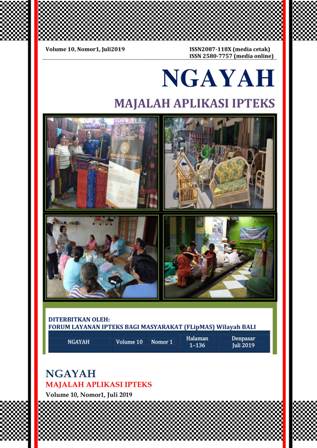 Downloads
How to Cite
Zainuddin, M., & Nanggong, A. (2019). PKM KELOMPOK USAHA PENGRAJIN KURSI ROTAN DI KELURAHAN LIBUO KECAMATAN DUNGINGI KOTA GORONTALO PROVINSI GORONTALO. Ngayah: Majalah Aplikasi IPTEKS, 10(1). Retrieved from http://e-journal.unmas.ac.id/index.php/ngayah/article/view/385