IbM GERAKAN BANK SAMPAH SEKOLAH TINGKAT SEKOLAH DASAR DI KOTA MAKASSAR
Fatmawati Andi Mappasere

Fakultas Ilmu Sosial dan Ilmu Politik, Unismuh Makassar

Naidah Husein

Fakultas Ekonomi dan Bisnis, Unismuh Makassar
Keywords:
bank sampah, empowerment, people in school
Abstract
Garbage became a serious problem particularly in the city. It was caused by indicipline human's behaviour in managing their garbage. In order to change that behaviour, better garbage management that was started from elementary school level.Clean life behavior by managing garbage can be done by Bank Sampah Sekolah movement. This movement was social engineering to save environment through involving people at school to manage garbage by applying 5R principals (rethink, reduce, reuse, recycle and replant).Through this movement, it was expected that a paradigm changing on concept of garbage. If it was managed in better way, money can be generated. This community development program aimed to increase the capacity on managing Bank Sampah Sekolah for people in school. The research finding shown that better management on Bank Sampah Sekolah by following planning, organization, implementation, monitoring and evaluation was effective to increase clean life behavior and paradigm changing on garbage where it can be income generating.
Downloads
Download data is not yet available.
References
Kepmen Lingkungan Hidup Nomor 13 Tahun 2013 tentang tentang Pedoman Pelaksanaan Reduce, Reuse dan Recycle melalui Bank Sampah
Kementerian Pendidikan dan Kebudayaan. 2014. Panduan Pembinaan Sekolah Dasar Bersih dan Sehat (SD Bersih dan Sehat). Direktorat Jenderal Pendidikan Dasar Direktorat Pembinaan Sekolah Dasar.
Suwerda, Bambang. 2012. Bank Sampah (Kajian Teori dan Penerapan).Yogyakarta: Pustaka Rihama
Undang-Undang Nomor 18 Tahun 2008 Tentang Pengelolaan Sampah.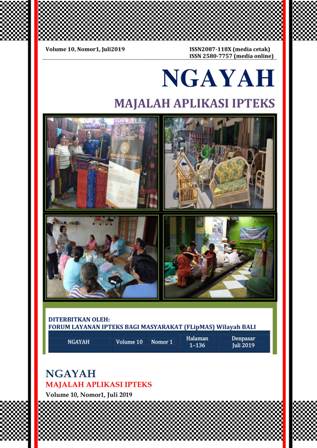 How to Cite
Mappasere, F. A., & Husein, N. (2019). IbM GERAKAN BANK SAMPAH SEKOLAH TINGKAT SEKOLAH DASAR DI KOTA MAKASSAR. Ngayah: Majalah Aplikasi IPTEKS, 10(1), 84-90. Retrieved from http://e-journal.unmas.ac.id/index.php/ngayah/article/view/383