PKM: KELOMPOK PENGERAJIN BERBAHAN KERTAS KORAN DI DESA BERABAN KECAMATAN KEDIRI KABUPATEN TABANAN
Keywords:
Newspaper, PKM, ceremonial tools
Abstract
Tabanan is one of the regencies in the province of Bali which has many craftsmen of religious ceremonies and traditional Balinese tools. Especially in Kediri sub-district, Pandak Bandung village, and Beraban village, there are craftsmen of religious ceremonies and ceremonial instruments of Balinese culture. Balinese ceremonies have their shape, material and appearance very typical for Balinese. Types of ceremonies that are most often used in Balinese religious and cultural ceremonies such as sok keben, small bokoran, large bokoran, a place for flowers to pray, and dumplings. Mr. Made Suwetra. The two groups of craftsmen took the initiative to produce Balinese ceremonial tools with environmentally friendly materials as well as very affordable prices but the quality of the products can compete, namely used newspapers. Handicrafts from the two groups are very popular in the community, from the lower classes to the upper classes. So, then the two groups of craftsmen were made service partners in the community partnership program. The situation of the business conditions of the two partners is enough to promise the benefits of seeing, the average value of the two partners is quite large, where the partner of Mr. Bagus Manubawa's idea can reach 5 million per month while the partner Made Made Suwetra can reach 6 million per month. The profit of the two partners can be 60% - 80%, from the turnover because the material used is 70% of used newspaper waste. The number of workers from Ide Manubawa's Idea partner is 3 people while partner Made Made Suwetra is 4 people. If we look at it from the beginning of our partner's business, Manubawa's good idea has been started since 2013, one year earlier than I Made Suwetra's partner, starting from 2014. However, the partner has obstacles and expectations, namely Made Suwetra's partners want to make newsprint rollers into semi-finished material. Good Idea Partners Manubawa wants their products to be known by the wider community by using ICT as their intermediary. And from the results of partner business observations, there were also things that needed to be improved, such as production equipment, financial management, motive design and marketing training. So, the purpose of this community service is to help solve the problems of the two partners in order to increase the quantity and quality of their production, help make production management, management of raw materials, financial management and help product marketing through ICT and also provide sustainable marketing tools . The output target that has been achieved to date through this activity is the purchase of some equipment to support the business that has been carried out 70% such as oilless compressor machines, paper cutting tools, thick paper scissors, and others, training for business management and management improvement has been carried out 70%, Website creation to improve marketing has been completed 100%
Downloads
Download data is not yet available.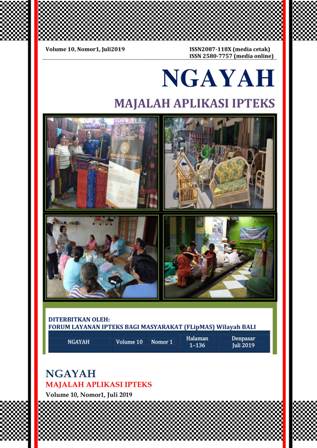 Downloads
How to Cite
Buana, I. K. S., & Wardana, I. G. N. (2019). PKM: KELOMPOK PENGERAJIN BERBAHAN KERTAS KORAN DI DESA BERABAN KECAMATAN KEDIRI KABUPATEN TABANAN. Ngayah: Majalah Aplikasi IPTEKS, 10(1). Retrieved from http://e-journal.unmas.ac.id/index.php/ngayah/article/view/382