PROGRAM KEMITRAAN MASYARAKAT KELOMPOK TANI NELAYAN DALAM PENGOLAHANPRODUK TEPUNGDAN KERIPIK BUAH MANGROVE
Keywords:
mangrove fruit, mangrove flour, chips mangrove, coastal communities
Abstract
Laikang Village is one of the villages in the coastal area of ​​Takalar Regency, South Sulawesi Province, which has the potential of mangrove forest resources, but the community's knowledge of the functions and benefits of mangrove forests is still very lacking, which has an impact on the low awareness of the community in the mangrove ecosystem. Mangrove as a food source is not yet known and developed by the coastal community of Laikang Village, while the raw material is very widely available in the area. This PKM program tries to provide a solution so that it can be overcome by conducting counseling on the ecosystem functions and benefits of mangroves as well as training in the use of mangrove fruit to become useful food products in the form of mangrove fruit flour and chips by increasing the role of fishermen farmer groups, so that they can be used as one alternative to increase the income of coastal communities. The method used is counseling method, training in processing mangrove fruit into flour and chips and product packaging. The main work produced: training in fruit processing into flour which is applied to partners starting from the process of fruit selection, stripping, steaming, boiling, drying, sieving to flour ready to be processed into chips until the packaging process  flour products and chips mangrove fruit.
Downloads
Download data is not yet available.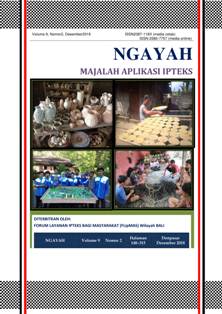 Downloads
How to Cite
Sribianti, I., & Sambu, A. H. (2019). PROGRAM KEMITRAAN MASYARAKAT KELOMPOK TANI NELAYAN DALAM PENGOLAHANPRODUK TEPUNGDAN KERIPIK BUAH MANGROVE. Ngayah: Majalah Aplikasi IPTEKS, 9(2). Retrieved from http://e-journal.unmas.ac.id/index.php/ngayah/article/view/205