STRATEGI PROMOSI DALAM PENGEMBANGAN DESA WISATA BUDAYA BERBASIS MASYARAKAT DI DESA SANROBONE, KECAMATAN SANROBONE, KABUPATEN TAKALAR
Keywords:
Sanrobone, cultural tourism, fortress, king's cemetery, tourist village
Abstract
Sandrobone is a villagein Takalar Regency, South Sulawesi, Indonesiawith low education and low income, which lead to environmental degradation due to overexploitation of itsnatural resources, such as over-conversion of mangrove forests to fishponds, destructive fishing and unmanaged household waste disposal. Nowadays, the mangroves area are depleting, fishing ground are far away, and biodiversity are degrading in the area. Therefore, weneed to find alternative livelihoods to overcome environmental damage and increase theincome of local communities. One solution is the development of tourism. Sanrobone has a potential of cultural tourism, such as Sanrobone Fortress and Sanrobone Kings Cemetery, which can be promoted and developed in order to improve the welfare of the community because it is supported by nature, community life, and socio-cultural conditions. However, there are still minimal visitors (domestic and foreign tourists) to the area because tourism facilities and infrastructure are very limited to meet the needs of the tourist. To overcome and reduce this problem, the promotion activities was carried out as a first step, including: 1) socialization of the tourism object to Takalar District government and the Sanrobone community; 2) creating a tourist map and setting up a sign board for tourist; 3) making a promotion video fortourism on social media; 4) promotionof the tourism object viaradio and leaflets. This promotional activities aimed to increase the number of tourists visiting Sanrobone village and to increase employment opportunities for the community and to continue preserving the existing community culture so that natural resources can be managed sustainably.
Downloads
Download data is not yet available.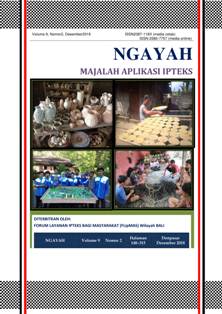 Downloads
How to Cite
Rappe, R. A., Mappangara, S., Ukkas, M., Faizal, A., Ratnawai, R., & Andriani, I. (2019). STRATEGI PROMOSI DALAM PENGEMBANGAN DESA WISATA BUDAYA BERBASIS MASYARAKAT DI DESA SANROBONE, KECAMATAN SANROBONE, KABUPATEN TAKALAR. Ngayah: Majalah Aplikasi IPTEKS, 9(2). Retrieved from http://e-journal.unmas.ac.id/index.php/ngayah/article/view/203