IbM GURU SD MUHAMMADIYAH KUPANG
Keywords:
IbM, Professionalism teacher, PAIKEM
Abstract
IbM'sactivities at SD Muhammadiyah aim to improve the professionalism of Muhammadiyah elementary school teachers through the transfer of science and technology that is useful in improving the quality of education in Kabupaten Kupang in particular as well as national education in general. IbM activities focused on media development materials and teaching materials using PAIKEM learning model and PTK training aimed at teachers of Muhammadiyah elementary schools in various fields or subjects. Professionalism for teachers in SD Muhammadiyah I and SD Muhammadiyah II Kupang need to be improved in order to run the teaching learning process in accordance with national education standards so as to produce graduates of students competing with other schools and teachers can carry out their profession by conducting classroom action research. The materials chosen in the activities include the implementation of learning models, how to develop learning tools, and the development of instructional media. The methods applied in the form of lectures on all training materials, demonstrations, assignments to participants, discussion (question and answer), assessment and evaluation of the ability of participants in accordance with the material presented and followed by mentoring activities as a follow-up of training activities. The success of IbM activities can be seen from the increasing understanding of teachers in analyzing a need for teaching materials or teachers have a broad understanding and insight related to how to develop and develop contextual based teaching materials. The ability of teachers in preparing classroom action research can also be said to experience an improvement after the activities of IbM in SD Muhammadiyah Kupang.
Downloads
Download data is not yet available.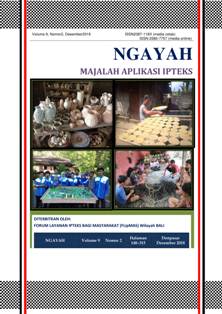 Downloads
How to Cite
Lestari, N., & Ihwan, I. (2019). IbM GURU SD MUHAMMADIYAH KUPANG. Ngayah: Majalah Aplikasi IPTEKS, 9(2). Retrieved from http://e-journal.unmas.ac.id/index.php/ngayah/article/view/202