PROGRAM KEMITRAAN MASYARAKAT (PKM) LITERASI MEMBACA DAN MENULIS KREATIF MODEL JURNALISTIK SEKOLAH DI SMA SURYA WISATA DAN SMK NASIONAL TABANAN
Keywords:
reading and writing interests, journalism, school magazines
Abstract
Surya Wisata Senior High School (SMA) Kediri District and National Vocational School in Tabanan Regency are two schools as target partners. Problems that arise in these two schools related to the application of science and technology to society (Ib.M) are 1). lack of interest in reading students; 2, the low interest in writing students, 3) teachers rarely use the media in the process of learning to read and write; 4) students do not have skills in reading and writing, 5). teachers and students do not have school media as a medium of journalistic expression, 6) teachers and students do not have school journalistic understanding and skills; 7). Teachers and students have never managed school magazines as part of entrepreneurship. To overcome all of the above problems, both schools form student journalistic groups to strengthen literacy reading and writing. This group is responsible for facilitating students' interest in reading and writing by: covering school activities, reporting, designing, deciphering changes and publishing school magazines. Activities given to partner schools by providing education and journalistic training for two days. This activity invited competent speakers in their fields such as journalists, academics and journalistic practitioners. This Training and Education As an effort to provide understanding, skills and management of journalists' tasks on reading literacy, creative writing and school journalism. Then a selection was made of the writings of the students' work to be fit in the school magazine. Making magazines in schools to accommodate students 'interest in reading and writing so that it becomes a movement to cultivate students' interest in reading and writing. In addition, students get experience in organization, entrepreneurship, and media management management involving school residents.
Downloads
Download data is not yet available.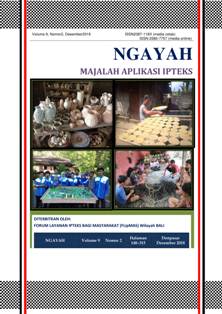 Downloads
How to Cite
Suaka, I. N., & Soper, I. W. (2019). PROGRAM KEMITRAAN MASYARAKAT (PKM) LITERASI MEMBACA DAN MENULIS KREATIF MODEL JURNALISTIK SEKOLAH DI SMA SURYA WISATA DAN SMK NASIONAL TABANAN. Ngayah: Majalah Aplikasi IPTEKS, 9(2). Retrieved from http://e-journal.unmas.ac.id/index.php/ngayah/article/view/201