PENINGKATAN KEBERDAYAAN MASYARAKAT BANTIMURUNG KABUPATEN MAROS MELALUI BIMTEK KEBAHASAAN DAN EKOTIF
Keywords:
English, Ekonomi Kreatif,Community Development
Abstract
The indicator of territory improvement was human resource development. It becamecentral issues in this study. Education and economic empowering were asmain factors in empowering the society. Society was in around Bantimurung Tourism Park need English competences and home industry skill. English was used to communicate the tourists well and home industry as alternative way in increasing their family's capital.Partisipative method was one available approach in participating and in accommodating the society through the programs proposed by the team of KKN PPM 2016.The purposes of these programs were 1) English village forming, 2) The formation of a potent entrepreneurial-based creative entrepreneurial group. The resut of the promrams were; 1) there was literacy community for teenager and the youth, 2) there was children art group of farmer community, 3) The improvement of family group home industry and the economy.
Downloads
Download data is not yet available.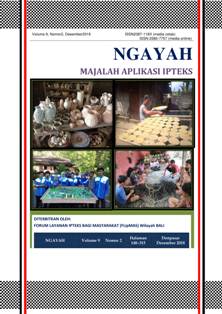 Downloads
How to Cite
Samsurijal, A., Nursaman, H., & Irawan, A. M. (2019). PENINGKATAN KEBERDAYAAN MASYARAKAT BANTIMURUNG KABUPATEN MAROS MELALUI BIMTEK KEBAHASAAN DAN EKOTIF. Ngayah: Majalah Aplikasi IPTEKS, 9(2). Retrieved from http://e-journal.unmas.ac.id/index.php/ngayah/article/view/194