PROGRAM KEMITRAAN MASYARAKAT TUKANG UKIR DI DESA BATUAN
Keywords:
micro economy, small bussiness, prosperity
Abstract
Two groups of local community who professionalize as wood carver for living in Batuan village, named I Kadek Pastika dan Komang Astika still has complicated problems so that very much influence prosperity of the family. Their problems are centralized on human resources, production, equipment, financial management and marketing due to lack of attention of local government. The purpose of the program is to empower the groups to develop human resources in business, upgrade the product quality, and donate some equipment so that that that can improve prosperity and inspire other community. The program made use of knowledge transfer, technology diffusion, and entrepreneurship capacity building through training workshop, and simulation of art performance. Training of designing carving on wood, ornaments production, carving skill and marketing have been done for 4 months. Design products included wall ornament, interior ornament, and souvenir. Financial management and marketing training has been conducted for two weeks and the output was the ability of daily simple accounting, name cards, and name boards and social media. Based on the evaluation, the program of community partnership has obtained the target therefore the groups can lead a better economy growth.
Downloads
Download data is not yet available.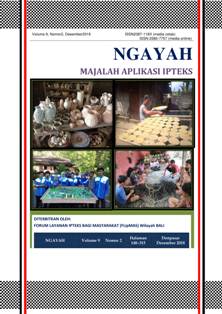 Downloads
How to Cite
Astutidan, P. S., & Sukanadi, N. L. (2019). PROGRAM KEMITRAAN MASYARAKAT TUKANG UKIR DI DESA BATUAN. Ngayah: Majalah Aplikasi IPTEKS, 9(2). Retrieved from http://e-journal.unmas.ac.id/index.php/ngayah/article/view/192