PEMANFAATAN TEKNOLOGI TEPAT GUNA BAGI UKM REMPEYEK
Keywords:
Rempeyek, Information Technology, Packaging Design
Abstract
 Rempeyek is a confection made from flour with a mixture of nuts and cooked with fried. Rempeyek is usually easy to find in traditional markets and can be used as a side dish. Besides rempeyek can also be consumed directly as a snack. Rempeyek production is occupied by partners in this activity. The first partner is Ibu Ni Nengah Supartiniati who produces rempeyek of soybean. The second partner is Mr. I Ketut Darmawan who produces rempeyek of soybean and peanuts. Both partners are located at Br. Yeh Gangga, Sudimara Village, Tabanan Sub-district, Tabanan District, Bali Province. The current condition, there are some obstacles in the production of rempeyek, which is limited information about the market tastes to the varieties of rempeyek, the limitations of production aids, product packaging design, lack of management of SMEs and limitations in marketing. Based on the constraints faced, it will be a gradual activity ranging from surveys on market tastes to variants rempeyek, production, until product marketing. Until now the activities that have been done started with the socialization, the provision of equipment as production aids such as dough mixer machine, stove, wok and press packaging machine, packaging training and packaging design, website development and website usage training. Indicator of achievement is the increase of partner's income up to 100%, increase of production amount up to 100%, packaging of spray product become more interesting, partners have a marketing website and can use the website.. To increase the number of production and increase the revenue of the partner, the measurement evaluation is done 1 month setting the use of production equipment. This activity is planned to last for eight (8) months with budget of Rp. 40.000.000, -.
Downloads
Download data is not yet available.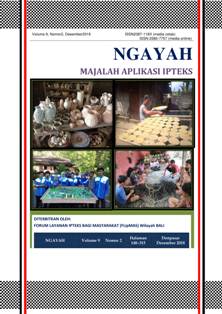 Downloads
How to Cite
Jayanti, N. K. D. A., & Sastrawangsa, G. (2019). PEMANFAATAN TEKNOLOGI TEPAT GUNA BAGI UKM REMPEYEK. Ngayah: Majalah Aplikasi IPTEKS, 9(2). Retrieved from http://e-journal.unmas.ac.id/index.php/ngayah/article/view/190