THE USE OF FLASHCARD IN ENGLISH VOCABULARY LEARNING
Keywords:
vocabulary, flashcard, strategy
Abstract
Vocabulary plays an important role in oral and written communication of foreign language (Laufer and nation,1999). Vocabulary is one of the language aspects that is very pivotal in English learning. If we have less vocabulary, we will not clearly enough to gain the information in communication.  The language learning approach using flashcards provides an effective training and learning method for teachers, and flashcards can also be used effectively as teaching resources to help students learn and understand vocabulary. One of the main advantages of flashcards is, they can be carried anywhere and can be studied at any time (Brown, 2000). Flashcards are a fun strategy and can increase students' reading interest. This study is a library research which aimed to describe the use of flashcard in English vocabulary learning. The  method  used  in  this  research  is  the  study  of literature. The results showed that the use of the flashcard strategy in English vocabulary learning at the elementary school and  high school levels were preferred and interested in using flashcards equipped with various images and has a variety of colors. Moreover, flashcards also make students more active and they did not get bored easily when learning English vocabulary.
References
Abbasian, G. R. & Ghorbanpour, G. (2016). The Effect of Flash Card-based Instruction on Vocabulary Learning by EFL Learners. International Journal of Humanities and Cultural Studies.
Erbey, R., McLaughlin, T. F., Derby, K. M., & Everson, M. (2011). The effects of using flashcards with reading racetrack to teach letter sounds, sight words, and math facts to elementary students with learning disabilities. International Electronic Journal of Elementary Education, 3(3), 213-226.
Hamer, W., & Rohimajaya, N. A. (2018). Using Flash Card as Instructional Media to Enrich the Students' Vocabulary Mastery in Learning English. Journal of English Language Studies, 3(2), 167-177.
Harisanty, D., Srirahayu, D., Kusumaningtiyas, T., Anugrah, E., & Permata, I. (2020). The Utilization of Flashcards in Children Information Literacy Development. Library Philosophy and Practice, 1-12.
Hasbullah, H., Yusof, S. B. M., Yaumi, M., & Babikkoi, A. M. (2018). Improving vocabulary using A computer-based flashcard program. International Journal on Advanced Science, Education, and Religion, 1(1), 31-36.
Komachali, M. E., & Khodareza, M. (2012). The Effect of Using Vocabulary Flash Card on Iranian Pre-University Students' Vocabulary Knowledge. International Education Studies, 5(3), 134-147.
Kupzyk, S., Daly III, E. J., & Andersen, M. N. (2011). A comparison of two flash‐card methods for improving sight‐word reading. Journal of applied behavior analysis, 44(4), 781-792.
Mojarradi, S. (2014). The effect of using flashcards on ESL (English as a Second Language) students' ability to learn vocabulary. International Journal of Scientific World, 2(2), 56-61.
Neuman, S. B., & Dwyer, J. (2009). Missing in action: Vocabulary instruction in pre‐K. The reading teacher, 62(5), 384-392.
Nikoopour, J., & Kazemi, A. (2014). Vocabulary learning through digitized & non-digitized flashcards delivery. Procedia-Social and Behavioral Sciences, 98, 1366-1373.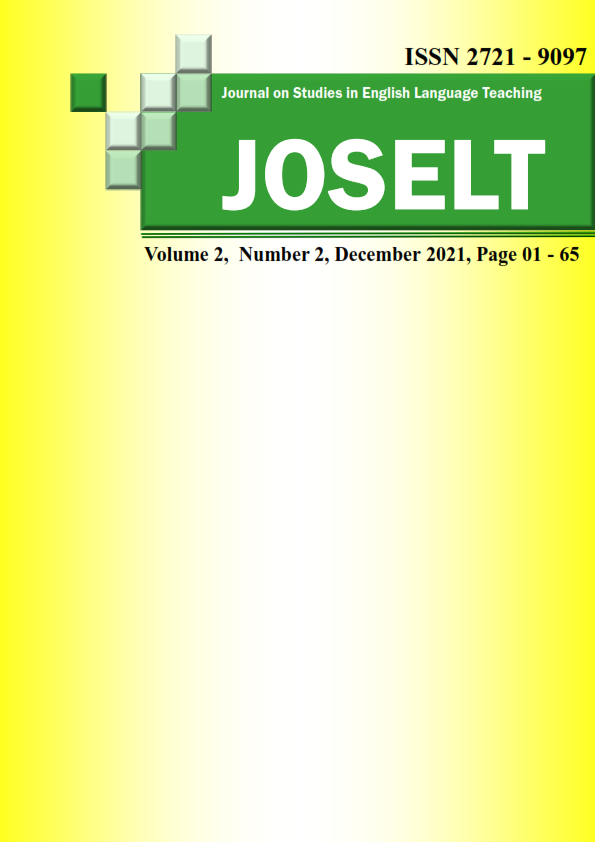 Downloads