PARTISIPASI MASYARAKAT DALAM PEMBENTUKAN PERATURAN DAERAH SEBAGAI UPAYA MENGHASILKAN PRODUK HUKUM RESPONSIF
Ida Ayu Putu Widianti

Faculty of Law, University of Warmadewa

Luh Putu Suryani

Faculty of Law, University of Warmadewa

Ketut Adi Wirawan

Faculty of Law, University of Warmadewa
Keywords:
Society Participation, local regulation, responsif
Abstract
The era of regional autonomy provides an opportunity for each regional government to regulate its own households except for matters that are the authority of the central government. The form of regulation carried out by the regional government is by issuing legislation in the form of regional regulations. The regional regulations created should be able to accommodate the needs and interests of the community, so that the goal of regional autonomy, namely the welfare of the people in the region, can be realized. The research method is normative legal research. Legal materials in the form of primary, secondary and tertiary legal materials. Qualitative legal materials collected will be sorted, analyzed and then presented in a descriptive form in the form of a research report as referred to in this study. The results of this study indicate that through participatory methods, the substance of the regulations in regional regulations can accommodate the interests, needs and values of the community. The next implication is the high obedience of community law to regional regulations and the attainment of the nature of the existence of law that is creating order and happiness in society.
References
BUKU:
Sirajuddin,dkk, 2015, Legislatif Drafting: Pelembagaan Metode Partisipatif Dalam Pembentukan Peraturan Perundang-Undangan, Setara Press, Malang
Cipto,Handoyo,B.Hestu,2009, Hukum Tata Negara Indonesia, Universitas Atma Jaya,Yogyakarta
Ismail, Fauzi, dkk, 2005, Libatkan Rakyat dalam Pengambilan Kebijakan, forum LSM Yogyakarta
Rasjidi,Lili dan Putra,I.B Wyasa,2003, Hukum Sebagai Suatu Sistem, Mandar maju, Bandung
Fuady,Munir, 2007, Sosiologi Hukum Kontemporer: Interaksi Hukum, kekuasaan dan masyarakat, Citra Aditya Bhakti, Bandung
Garner, Bryan A., 1999, Black's Law Dictionary, Ninth Edition, West Publishing, USA
Tanya,Bernard L.,dkk,2010, Teori Hukum: Strategi Tertib Manusia Lintas Ruang dan Generasi, Genta Publishing,Yogyakarta
Halim,Hamzah dan Putera,Kemal Redindo Syahruk, 2013, Cara Praktis Menyusun dan Merancang Peraturan Daerah (Suatu Kajian Teoritis dan Praktis disertai Manual): Konsepsi Teoritis menuju artikulasi empiris, Kencana Prenada Media Group, Jakarta.
PERATURAN PERUNDANGUNDANGAN:
Undang-Undang Dasar Negara Republik Indonesia Tahun 1945
Undang-Undang No. 23 Tahun 2014 tentang Pemerintah Daerah
Undang-Undang No. 12 Tahun 2011 tentang Pembentukan Peraturan Perundang-Undangan
Undang-Undang Republik Indonesia Nomor 2 Tahun 2015 Tentang Penetapan Peraturan Pemerintah Pengganti UndangUndang Nomor 2 Tahun 2014 Tentang Perubahan Atas Undang-Undang Nomor 23 Tahun 2014 Tentang Pemerintahan Daerah Menjadi Undang-Undang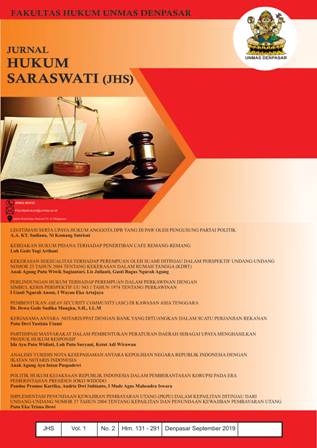 How to Cite
Widianti, I. A. P., Suryani, L. P., & Wirawan, K. A. (2019). PARTISIPASI MASYARAKAT DALAM PEMBENTUKAN PERATURAN DAERAH SEBAGAI UPAYA MENGHASILKAN PRODUK HUKUM RESPONSIF. Jurnal Hukum Saraswati (JHS), 1(2), 237-251. Retrieved from http://e-journal.unmas.ac.id/index.php/JHS/article/view/659