KERJASAMA ANTARA NOTARIS/PPAT DENGAN BANK YANG DITUANGKAN DALAM SUATU PERJANJIAN REKANAN
Putu Devi Yustisia Utami

Fakultas Hukum Universitas Udayana
Keywords:
partnership agreement, Notary / PPAT, bank
Abstract
Banks in providing credit, require the role of Notary/PPAT in the process of binding credit agreements and credit guarantees. Because of the increasing number of Notary/PPAT in some area, this cause more difficult for a Notary/PPAT to get clients. To overcome this, some Notaries/PPAT's want to get many clients by collaborating with the banks, which is stated in a partnership agreement. When a Notary/PPAT becomes a partner of the bank, they will obtain job and client from the bank and binding themselves to the bank. The problems in this study are How is the existence of a partnership agreement between the Notary/PPAT with the bank reviewed from UUJN, Notary Code of Ethics and PPAT Regulation. This study used a normative legal research, with a Statute Approach and the Analytical Concept Approach. The legal materials are primary, secondary and tertiary legal materials.The conclusions in this stydy that the partnership between Notary/PPAT and the bank violates the provisions of article 16 paragraph 1 letter of the Law of The Notary and violates code of Ethics Notary and code of Ethics PPAT, as well as the partnership agreement between Notary/PPAT with the bank raises a contractual relationship between the Notary/PPAT and his client so that the Notary/PPAT can no longer carry out his position independently.
References
BUKU :
Puryatma, I Made, 2012, "Tanggung Jawab Notaris Dalam Pembuatan Akta", dimuat dalam buku Tanggung Jawab Notaris Dalam Pembuatan Akta, Ikatan Notaris Indonesia Pengurus Wilayah Bali dan NTT, Denpasar.
JURNAL
Marzuki, Peter Mahmud, 2003, "Batas-Batas Kebebasan Berkontrak", Yuridika, ISSN 0215-849X, Vol.18, No. 3, Mei 2003.
INTERNET
Utama, Pria Takari, "Ketika Ditodong Rp. 500 Juta", Majalah RENVOI, Edisi Januari 2015. (https://notariscerdik.com/ketika-ditodong-rp-500-juta/ diakses pada tanggal 20 Juli 2019)
PERATURAN PERUNDANG-UNDANGAN
Kitab Undang - Undang Hukum Perdata.
Undang-Undang Republik Indonesia Nomor 10 Tahun 1998 tentang Perubahan Undang-Undang Republik Indonesia Nomor 7 Tahun 1992 tentang Perbankan dan peraturan pelaksanaanya, (Lembaran Negara Tahun 1998 nomor 182, Tambahan Lembaran Negara nomor 3790).
Undang- Undang Nomor 2 Tahun 2014 tentang Perubahan Atas Undang- Undang Nomor 30 tahun 2004 tentang Jabatan Notaris (Lembaran Negara Republik Indonesia Tahun 2014 Nomor 3, Tambahan Lembaran Negara Nomor 5491).
Peraturan Pemerintah Nomor 24 Tahun 2016 tentang Perubahan atas Peraturan Pemerintah Nomor 37 Tahun 1998 tentang Peraturan Jabatan Pejabat Pembuat Akta Tanah (Lembaran Negara Republik Indonesia Tahun 2016 Nomor 120, Tambahan Lembaran Negara Republik Indonesia Nomor 5893).
Perubahan Kode Etik Notaris Kongres Luar Biasa Ikatan Notaris Indonesia Banten Mei 2015
Kode Etik PPAT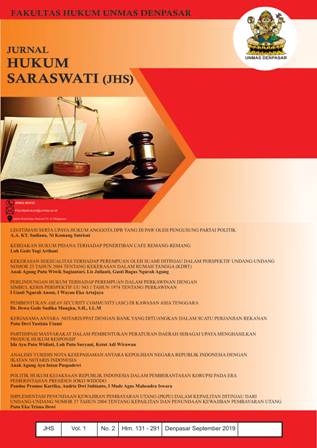 How to Cite
Utami, P. D. Y. (2019). KERJASAMA ANTARA NOTARIS/PPAT DENGAN BANK YANG DITUANGKAN DALAM SUATU PERJANJIAN REKANAN. Jurnal Hukum Saraswati (JHS), 1(2), 222-236. Retrieved from http://e-journal.unmas.ac.id/index.php/JHS/article/view/658