PEMBENTUKAN ASEAN SECURITY COMMUNITY (ASC) DI KAWASAN ASIA TENGGARA
Dewa Gede Sudika Mangku

Program Studi Ilmu Hukum Fakultas Hukum dan Ilmu Sosial Universitas Pendidikan Ganesha Singaraja
Keywords:
ASEAN, Security Community, ASEAN Charte
Abstract
The ASEAN Community consists of 3 (three) pillars, namely the ASEAN Security Community (ASC), the ASEAN Economic Community (AEC) and the ASEAN SocioCultural Community (ASCC) that are mutually binding and strengthen to achieve common goals in order to ensure sustainable peace, stability and prosperity that is divided in the Southeast Asia region. These three pillars supporting the ASEAN Community are a new paradigm that will drive ASEAN cooperation towards a community and a new, more binding identity. ASC must be a mechanism to solve problems internally which has the potential to disrupt the stability and security of the region through peaceful means. Including sensitive issues that have the potential to cause problems without having to abandon the principle of not interfering in the affairs of other countries.
References
Buku :
Adolf, Huala, 1990, Aspek-Aspek Negara Dalam Hukum Internasional, Rajawali Press, Jakarta.
Broinowski, Alison, 1983, Understanding ASEAN, The Mac Millan Press LTD, London and Basingstoke.
Direktorat Jenderal Kerjasama ASEAN Departemen Luar Negeri Republik Indonesia, 2007, ASEAN Selayang Pandang, Departemen Luar Negeri Republik Indonesia, Jakarta.
Gill, Ranjit, 1987, ASEAN, PT. Gramedia, Jakarta.
Halina, Ilein, 1988, ASEAN, Pusat Antar Universitas (PAU), Studi Sosial Asia Tenggara (PSSAT), Universitas Gadjah Mada, Yogyakarta.
Hall, D.G.E. 1981, The History of South-East Asia, Dewan Bahasa dan Pustaka Kuala Lumpur, Malaysia.
Suryokusumo, Sumaryo, 2007, Studi Kasus Hukum Internasional, PT. Tatanusa, Jakarta-Indonesia.
Artikel Ilmiah :
CPF. Luhulima, dkk, 2008, Masyarakat Asia Tenggara Menuju Komunitas ASEAN 2015, Pustaka Pelajar, Pusat Penelitian Politik-LIPI, Jakarta.
Faustinus Andrea, 2006, Indonesia dan Komunitas ASEAN, Jurnal Hukum Internasional, Volume 3 No. 3 April 2006, Lembaga Pengkajian Hukum Internasional Fakultas Hukum Indonesia, Jakarta.
Mangku, D. G. S. (2010). Pelanggaran terhadap Hak Kekebalan Diplomatik (Studi Kasus Penyadapan Kedutaan Besar Republik Indonesia (KBRI) di Yangon Myanmar berdasarkan Konvensi Wina 1961). Perspektif, 15(3).
Mangku, D. G. S. (2011). Peluang dan tantangan ASEAN dalam penyelesaian sengketa Kuil Preah Vihear di perbatasan Kamboja dan Thailand. Pandecta: Research Law Journal, 6(2).
Mangku, D. G. S. (2013). Kasus Pelanggaran Ham Etnis Rohingya: Dalam Perspektif ASEAN. Media Komunikasi FIS, 12(2).
Mangku, D. G. S. (2018). Kepemilikan Wilayah Enclave Oecussi Berdasarkan Prinsip Uti Possidetis Juris. Jurnal Advokasi, 8(2), 150- 164.
Mangku, D. G. S., & Itasari, E. R. (2015). Travel Warning in International Law Perspective. International Journal of Business, Economics and Law, 6(4).
Mangku, Dewa Gede Sudika, Suatu Kajian Umum tentang Penyelesaian Sengketa Internasional Termasuk di Dalam Tubuh ASEAN, Perspektif (2012).
Purwanto, H., & Mangku, D. G. (2016). Legal Instrument of the Republic of Indonesia on Border Management Using the Perspective of Archipelagic State. International Journal of Business, Economics and Law, 11(4).
Peraturan Perundang-Undangan/Konvensi Internasional :
Cebu Declaration Towards One Caring and Sharing Community, Cebu, 13 Januari 2007, Butir 8. Piagam ASEAN
Website :
Anonim, 2007, Pengertian Geopolitik, diakses pada tanggal 8 Juni 2019, dari http://fajargm.co.cc/?p=3
Faustinus Andrea, 2007, ASEAN Setelah 40 Tahun, diakses pada tanggal 1 Januari 2009, dari http://www.kompas.com
Rodolfo Severino, 1998, Asia Policy Lecture : What ASEAN Is and What It Stands For (The Research Institute for Asia and the Pacific, University of Sydney, Australia, 22 October 1998), diakses pada tanggal 7 Juni 2019 dari http://www.aseansec.org/3399.htm
Koran :
Kompas, Tentara KambojaThailand Baku Tembak, tanggal 16 Oktober 2008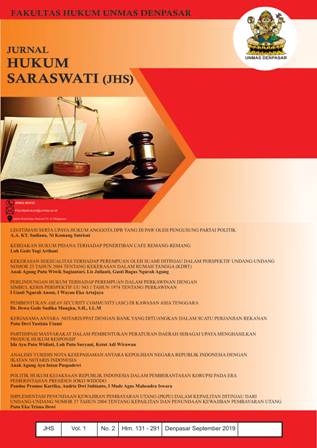 How to Cite
Mangku, D. G. S. (2019). PEMBENTUKAN ASEAN SECURITY COMMUNITY (ASC) DI KAWASAN ASIA TENGGARA . Jurnal Hukum Saraswati (JHS), 1(2), 205-221. Retrieved from http://e-journal.unmas.ac.id/index.php/JHS/article/view/657