KEBIJAKAN HUKUM PIDANA TERHADAP PENERTIBAN CAFE REMANG-REMANG
Luh Gede Yogi Arthani

Fakultas Hukum Universitas Mahasaraswati Denpasar
Keywords:
dimly lit cafes, criminal policy, alcohol, prostitution
Abstract
The existence of dimly lit cafes is quite easy to find in Bali, even its existence in remote villages. A lot of commotion and crime that occurred in that place. In this research, we will discuss criminal acts that occur in dimly lit cafes and dim café control policies. The dimly-lit café is the place where criminal acts, namely the circulation of alcohol and prostitution activities. This activity is against the rule of law, and disturbs order in society, therefore its existence must be addressed. Tackling dimly lit cafes can be carried out with a penal policy and non-penal policy, namely by criminal law enforcement, licensing, community participation and a value approach.
References
BUKU
Bawengan, 1977, Masalah Kejahatan dengan Sebab dan Akibat, Pradnya Paramita, Jakarta.
Bernard L. Tanya, 2011, Penegakan Hukum Dalam Terang Etika, Genta Publishing, Yogyakarta.
Bonger, 2004, Pengantar Kriminologis, PT Ghalia Indonesia, Jakarta.
Dahlan Thaib, Jazim Hamidi dan Ni'matul Huda, 2009, Teori dan Hukum Konstitusi, RajaGrafindo Persada, Jakarta.
Dirdjosisworo, 1977, Pelacuran ditinjau dari Hukum dan Kenyataan, PT. Karya Nusantara, Bandung.
Fajar Sugianto, 2013, Economic Analysis of Law Seri I, Kencana Prenada Media Group, Jakarta.
Lamintang dan Theo Lamintang, 2009, Delik-delik Khusus Kejahatan Melanggar Norma Kesusilaan dan Norma Kepatutan, Sinar Grafika, Jakarta.
Shan Dellyana, 2008, Konsep Penegakan Hukum, Liberty, Yogyakarta.
Telly J. Garpenessy, 2007, Pengaruh Penyalahangunaan Alkohol Terhadap Tindak Pidana Kekerasan, Tesis, Semarang, Universitas Diponegoro.
JURNAL
Ahmadi, B., & Amri, A. (2018). Kontrol Sosial Masyarakat Terhadap Eksistnsi Kafe Remang-Remang. Jurnal Ilmiah Mahasiswa Fakultas Ilmu Sosial & Ilmu Politik, 3(1).
INTERNET
Nusa Bali, Berantem Usai Pesta Miras, 1 Tewas, 1 Kritis, https://www.nusabali.com/berita/58186/berantem-usai-pestamiras-1-tewas-1-kritis
_______, Gianyar Tolak Operasi Kafe Remang, https://www.nusabali.com/berita/57264/gianyar-tolak-operasikafe-remang
World Health Organization, Alcohol, https://www.who.int/healthtopics/alcohol#tab=tab_1
_______, Global Strategy to Reduce Harmful Use of Alcohol, http://www.who.int/substance_abuse/activities/gsrhua/en/.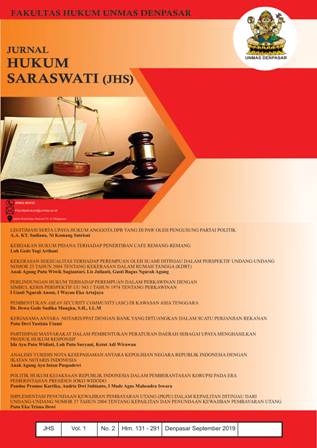 How to Cite
Arthani, L. G. Y. (2019). KEBIJAKAN HUKUM PIDANA TERHADAP PENERTIBAN CAFE REMANG-REMANG. Jurnal Hukum Saraswati (JHS), 1(2), 151-162. Retrieved from http://e-journal.unmas.ac.id/index.php/JHS/article/view/654