TANGGUNG JAWAB PELAKU USAHA TERHADAP KONSUMEN APABILA TIDAK TERLAKSANAYA STANDARD HYGIENE SANITASI DALAM PENYAJIAN FOOD AND BEVERAGE PADA RESTORAN
Keywords:
Responsibility, Business Actor, Consumer, Indemnification
Abstract
Food and beverages are basic human needs that are required at all times and should and be managed properly and properly in order to benefit the body. Good and proper management is basically managing foods based on the principle of hygiene and food sanitation. Responsibility of restaurant business actors well by providing nutritious food quality, quality, and does not interfere with consumer health, as well as the responsibility to provide compensation to consumers who suffered losses. Compensation is a tool that can be used to provide protection for consumers of defective products produced by restaurant business actors. The method used is empirical legal research, with the nature of descriptive research using primary and secondary data sources with data collection techniques document studies, field research and interviews, as well as reading sources related to the existing problems
References
BUKU:
Ahmadi Miru dan Sutarman Yodo, 2005, Hukum Perlindungan Konsumen, Rajawali Pers, Jakarta
Amiruddin, H Zainal Asikin , 2008, Pengantar Metode Peneliian Hukum, PT. Raja Grafindo Persada, Jakarta
Andrian Sutedi, 2008, Tanggung Jawab Produk Dalam Hukum Perlindungan Konsumen, Ghalian Indonesia, Ciawi-Bogor .
Janus Sidabolok, 2010, Hukum Perlindungan Konsumen Di Indonesia, Aditya bakti, Bandung
Zakyah Eryunica, 2006, Tinjauan Yuridis Pertanggungjawaban Produsen Atas Pernyataan Kadaluarsa Pada Produk Makanan dan Minuman Berdasarkan Undang-Undang No. 8 Tahun 1999 Tentang Perlindungan Konsumen, Tesis Magister Hukum Universitas Indonesia
PERATURAN PERUNDANG-UNDANGAN:
Undang-Undang Nomor 8 Tahun 1999 tentang Perlindungan Konsumen Undang-Undang Nomor 18 Tahun 2012 tentang Pangan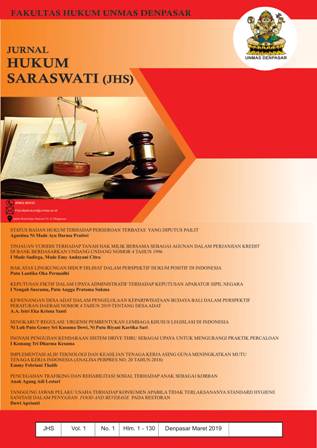 How to Cite
Aprianti, D. (2019). TANGGUNG JAWAB PELAKU USAHA TERHADAP KONSUMEN APABILA TIDAK TERLAKSANAYA STANDARD HYGIENE SANITASI DALAM PENYAJIAN FOOD AND BEVERAGE PADA RESTORAN. Jurnal Hukum Saraswati (JHS), 1(1), 120-130. Retrieved from http://e-journal.unmas.ac.id/index.php/JHS/article/view/652