PENCEGAHAN TRAFIKING DAN REHABILITASI SOSIAL TERHADAP ANAK SEBAGAI KORBAN
Anak Agung Adi Lestari

JagadithaLaw Office
Keywords:
Prevention of trafficking, Social Rehabilitation, Children as victims
Abstract
Prevention of trafficking in persons, especially women and children, is a part of human rights for children and women. The importance of handling child trafficking is based on the increase in the number of cases estimated by UNICEF each year around 1.2 million children in Asia, there are around 400,000 children who have been victims of trafficking in which around 70,000 children are sexually exploited. Based on the description, there are several problems, namely, first, how is the government's effort in tackling the trafficking of children, second, what factors cause trafficking in children. Trafficking in children is an act that deprives children of their rights. This contradicts article 34 of the 1945 Constitution which states, "The poor and neglected children are banned by the state". Government efforts are urgently needed to deal with the problem of trafficking in abandoned children so that they get a legal protection. Factors that support the occurrence of trafficking are: low education, unemployment, weak law enforcement, free lifestyles, the amount of interest regarding commercial sex workers, pornographic writings and so on. In this case the government can take an action outside the law but not deviate from the values that exist in handling the case.
References
Alma Kadragie, Globalisasi Hak-Hak Azazi Manusia, Direktorat Internasional Komunikasi Alcat Universitas Phoenix.
Departamen Sosial RI Direktorat Jendral Pelayanan Dan Rehabilitasi Sosial, Direktorat Bina Pelayanan Sosial Anak, 2004.
Hotma P. Subea, Asas Negara Hukum, Perturan Kebijakan Asas-asas Umum Pemeritahan Yang Baik, Erlangga, Jakarta.
Ida Elisabeth Koch, Hak Asasi Manusia Sebagai Hak Yang Tidak Bisa Dibagi-bagi, Proteksi Permintaan Sosial Ekonomi dibawah Konvensi Eropa tentang Hak Asasi Manusia.
Jimly Asshiddiqi, 1998, Agenda Pembangunan Hukum Nasional Di Abad Globalisasi, Balai Pustaka, Jakarta.
Sjachran Basah, 1992, Perlindungan Hukum Terhadap Sikap Tindak Administrasi Negara, Alumni, Bandung.
Yohanes Usfunan, 2011, HAM Politik Kebebasan Berpendapat Di Indonesia, Udayana University Press.
_______, 2002, Pebuatan Pemerintah Yang Dapat Digugat, Djambatan.
_______, 2004, Perancangan Peraturan Perundang-undangan Yang Baik Menciptakan Pemerintah Yang Bersih Dan Demokratis,Universitas Udayana Press.
Menutupi Biaya Persalinan Bayi Disandera dan Dijual, Modus Baru Praktek Jual-Beli Anak, Posmetro Medan, Edisi Minggu, 18 Nopember 2007.
Koesnadi Hardjasoemantri, 2002, Hukum Tata Lingkungan, Edisi Revisi, Cetakan Keempat belas, Gajah Mada University Press, Yogyakarta.
Maidin Gultom, Perlindungan Hukum Teradap Anak dan Perempuan, refika ADITAMA, Medan, 2012.
UNDP Regional HIV and Development Programme Team, "Twilight Zone", cerita sampul dalam You and ADIS The HIV and Development Magazine for Asia Pacific, Vol.2 Terbitan No. 1, Agustus 2003
Komisi Perlindungan Anak Indonesia, 2019, Available from : http://www.kpai.go.id/artikel/temuan-danrekomendasi-kpaitentang-perlindungan-anak-dibidang-perdagangan-anaktrafficking-daneksploitasiterhadap-anak, diakses pada tanggal 27 September 2019.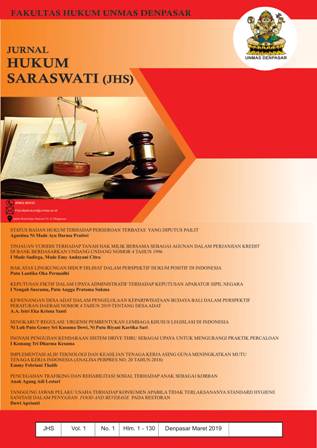 How to Cite
Lestari, A. A. A. (2019). PENCEGAHAN TRAFIKING DAN REHABILITASI SOSIAL TERHADAP ANAK SEBAGAI KORBAN. Jurnal Hukum Saraswati (JHS), 1(1), 105-119. Retrieved from http://e-journal.unmas.ac.id/index.php/JHS/article/view/651