IMPLEMENTASI ALIH TEKNOLOGI DAN KEAHLIAN TENAGA KERJA ASING GUNA MENINGKATKAN MUTU TENAGA KERJA INDONESIA (ANALISA PERPRES NO. 20 TAHUN 2018)
Emmy Febriani Thalib

STIKI Indonesia
Keywords:
Transfer of and knowledge, Foreign Employees and Quality of Indonesian Employees
Abstract
To support the national economy and expand the employment opportunities through investment development and awareness that Indonesia still needs foreign investors.As anticipation, the expectation that there will be a complete set of Government regulations that applied to foreign employees, as well as the security of using foreign employees. The objective is to prioritize the Indonesian employee while selectively using the foreign employee. This study analyzes the actual conditions of the Implementation of Transfer Knowledge and Technology of Foreign Employees to Improve the Quality of Indonesian Employees through library research. With a normative juridical case approach, this study was conducted to analyze how regulatory arrangements related to Manpower Foreign Employees and how the implementation of technology transfer and expertise of foreign employees. The results showed that the regulation of transfer of technology and knowledge had been regulated in Presidential Regulation Number 20 of 2018 concerning the Use of Foreign Employees and Ministerial Regulation Number 10 of 2018 concerning Procedures for the Use of Foreign Employees but the implementation of the regulation has not optimal yet in terms of supervision of the relevant agencies.
References
BUKU
Abdul Hakim, 2009, Dasar-Dasar Hukum Ketenagakerjaan Indonesia, Bandung: Citra Aditya Bakti.
Agusmidah, 2010, Hukum Ketenagakerjaan Indonesia, Dinamika dan Kajian Teori., Bogor: Ghalia Indonesia.
Ahmadi Miru,2008, Hukum Kontrak dan Perancangan Kontrak, Jakarta: PT. Rajagrafindo Persada.
Amirudin & Zainal Asikin, 2004, Pengantar Metode Penelitian Hukum, Jakarta, Radja Grafindo Persada.
Budiono, Abdul Rachmat, 1995, Hukum Perburuhan Di Indonesia, Jakarta: PT. Rajagrafindo Persada.
HR Abdussalam, 2008. Hukum Ketenagakerjaan, Jakarta: Penerbit Restu Agung.
Soekanto, S. 2012. Pengantar Penelitian Hukum. Jakarta: Universitas Indonesia Press
Wallerstein, Mitchel B. Mary Ellen Mogee, Roberta A. Schoen (ed). (1993). Global Dimensions of Intellectual Property Rights in Science and Technology, Washington DC: National Academy Press.
INTERNET
http://ditjenpp.kemenkumham.go.id/hukum-bisnis/1427-tenaga-kerjaasing-di-indonesia-kebijakan-danimplementasi.html diakses tanggal 10 September 2019
https://katadata.co.id/infografik/2019/04/10/investasi-asing-diindonesia,diakses tanggal 10 September 2019
https://databoks.katadata.co.id/datapublish/2019/04/16/investasi-asing-keindonesia-2018-mencapai-rp-9-ribu-triliun diakses tanggal 10 September 2019
https://finance.detik.com/beritaekonomi-bisnis/d4699585/tenaga-kerja-asingmasuk-ri-melesat-38-terbanyakasal-china diakses tanggal 10 September 2019
http://sumberdaya.ristekdikti.go.id/index.php/2018/01/30/era-revolusiindustri-4-0-saatnya-generasimillennial-menjadi-dosen-masadepan/ diakses tanggal 10 September 2019
http://stagingpoint.com/read/2018/05/04/170407/Alih-Teknologi.AlihKeahlian.Melalui.Tenaga.Kerja.Asing.TKA. diakses tanggal 11 September 2019
http://kemnaker.go.id/berita/beritakemnaker/mekanismepengendalian-dan-pengawasanpenggunaan-tka-oleh-pengawasketenagakerjaan diakses tanggal 11 September 2019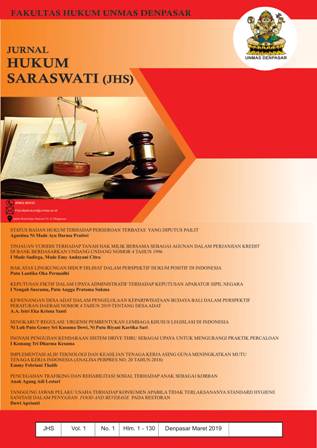 How to Cite
Thalib, E. F. (2019). IMPLEMENTASI ALIH TEKNOLOGI DAN KEAHLIAN TENAGA KERJA ASING GUNA MENINGKATKAN MUTU TENAGA KERJA INDONESIA (ANALISA PERPRES NO. 20 TAHUN 2018). Jurnal Hukum Saraswati (JHS), 1(1), 90-104. Retrieved from http://e-journal.unmas.ac.id/index.php/JHS/article/view/650