SENGKARUT REGULASI: URGENSI PEMBENTUKAN LEMBAGA KHUSUS LEGISLASI DI INDONESIA
Ni Luh Putu Geney Sri Kusuma Dewi

Fakultas Hukum Universitas Ngurah Rai

Ni Putu Riyani Kartika Sari

Fakultas Hukum Universitas Ngurah Rai
Keywords:
Regulation, Over regulation, Quality of legislation
Abstract
Regulation is an instrument for realizing state policies in order to achieve the objectives of the state. As an instrument to realize every state policy, regulations must be formed in the right way so that they are able to produce good regulations and be able to encourage the implementation of orderly social dynamics and be able to encourage the performance of state administration. Indonesia is currently experiencing problems in regulation such as over regulation, overlapping and low quality of legislation. Regulatory disputes that occur become a very urgent problem to be addressed immediately. One way to overcome this is to improve the quality of product legislation and establish a single institution that manages regulation. The institution will later be responsible for establishing legislation at the Government level and also efforts to establish a system of regulation that is integrated in one door and systematic.
References
BUKU
Ali, Achmad, 2010, Menguak Relitas Hukum: Rampai Kolom & Artikel Pilihan dalam Bidang Hukum, Kencana Prenada Media Group.
Anggono, Bayu Dwi, 2014, Perkembangan Pembentukan Peraturan Perundang-Undangan, Jakarta, Konstitusi Press.
Apeldoorn, Van, 2001, Pengantar Ilmu Hukum,Cet. 29, Jakarta, Pradnya Paramita.
Farida, Maria, 2007, Ilmu Perundang-Undangan 2, Yogyakarta, Kanisius.
Kementrian Perencanaan Pembangunan Nasional/ Badan Perencananaan Pembangunan Nasional, Laporan Akhir Kordinasi Strategis Pengembangan Studi Kelayakan Database Perturan Perundang-Undangan Tahun 2010.
Mertokusumo, Sudikno, 2005, Mengenal Hukum (Suatu Pengantar), Liberty Yogyakarta.
Natabaya, HAS, 2006, Sistem Peraturan Perundang-Undangan, Jakarta, Sekretariat Jendral dan Kepaniteraan Mahkamah Konstitusi.
Nugroho, Setio Sapto, 2009, Harmonisasai Pembentukan Peraturan Perundang-Undangan, dalam Dokumentasi dan Informasi Hukum Bagian Hukum Biro Hukum dan Humas Bidang Perekonomian Sekretariat Negara.
Soimin, 2010, Pembentukan Peraturan Perundang-Undangan Negara Di Indonesia, Yogyakarta.
Yani, Ahmad, 2011, Pembentuk Undang-Undang dan Perda, Jakarta, Raja Grafindo Persada.
PERATURAN PERUNDANG-UNDANGAN
Undang-Undang Nomor 12 Tahun 2011 tentang Pembentukan Peraturan Perundang-Undangan. Lembaran Negara Republik Indonesia Tahun 2011 Nomor 82. Tambahan Lembaran Negara Tambahan Lembaran Negara Republik Indonesia Nomor 5234.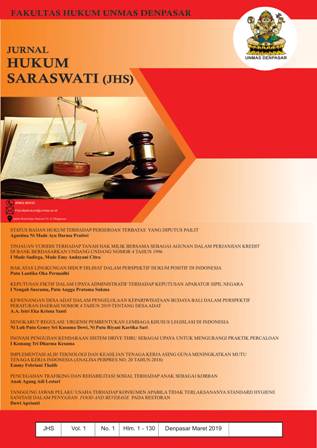 How to Cite
Dewi, N. L. P. G. S. K., & Sari, N. P. R. K. (2019). SENGKARUT REGULASI: URGENSI PEMBENTUKAN LEMBAGA KHUSUS LEGISLASI DI INDONESIA. Jurnal Hukum Saraswati (JHS), 1(1), 61-77. Retrieved from http://e-journal.unmas.ac.id/index.php/JHS/article/view/648