HAK ATAS LINGKUNGAN HIDUP DILIHAT DALAM PERSPEKTIF HUKUM POSITIF DI INDONESIA
Putu Lantika Oka Permadhi

Fakultas Hukum Universitas Mahasaraswati Denpasar
Keywords:
regulation, human rights, environment
Abstract
Violations of human rights (HAM) in the environmental field have occurred in almost all levels of community life. The violation should be interpreted as a threat to Indonesian human civilization. In turn it accumulates and leads to violations of economic rights, violations of social and cultural rights, civil and political rights. The phenomenon of the right to a good, healthy and balanced environment as a human right, related to the reality of environmental management in Indonesia has not yet been realized. Related to the issue of environmental damage, the right to the environment in the perspective of human rights is interesting to be examined and studied, in order to describe the conception of human rights and the right to the environment, the regulation of the right to the environment in Indonesia's positive legal provisions, the right to the environment good and healthy is a human right, and its implementation in environmental management policies.
References
Akib, Muhammad, 2011, Penegakan Hukum Lingkungan Dalam Perspektif Holistik-Ekologis, Penerbit Universitas Bandar Lampung, Bandar Lampung
Husin, Sukanda, 2009, Penegakan Hukum Lingkungan Indonesia, Sinar Grafika, Jakarta
Ibrahim, Johny, 2006, Teori dan Metodologi Penelitian Hukum Normatif, Bayumedia, Malang.
Rauf, Abdul, 2001, Tanggung Jawab Sosial dan Lingkungan Perusahaan BUMN terhadap stakeholder, Surya Citra, Jakarta
Siahaan, NHT, 2009, Hukum Lingkungan, Pancuran Alam, Jakarta
Shaleh, Ridha, 2005, Ecocide: Politik Kejahatan Lingkungan dan Pelanggaran Hak Asasi Manusia, Walhi, Jakarta
Soemitro, Ronny Hanitijo, 1988, Metodologi Penelitian Hukum dan Jurimetri, Ghalia Indonesia, Jakarta
Wijoyo, Suparta, 1998, Sketsa Lingkungan dan Wajah Hukumnya, Surya Kencana, Jakarta.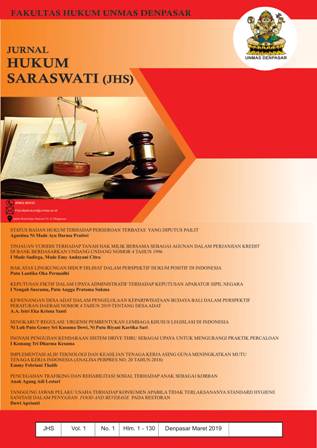 How to Cite
Permadhi, P. L. O. (2019). HAK ATAS LINGKUNGAN HIDUP DILIHAT DALAM PERSPEKTIF HUKUM POSITIF DI INDONESIA. Jurnal Hukum Saraswati (JHS), 1(1), 21-32. Retrieved from http://e-journal.unmas.ac.id/index.php/JHS/article/view/645