STATUS BADAN HUKUM TERHADAP PERSEROAN TERBATAS YANG DIPUTUS PAILIT
Agustina Ni Made Ayu Darma Pratiwi

Fakultas Hukum Universitas Mahasaraswati Denpasar
Keywords:
Company, Legal Entity Status, Bankcrupty
Abstract
Writing entitled "Status of Legal Entity Towards a Broken Company Limited Liability Company" The company has declared bankruptcy in an insolvency state and the revocation of the Company's business license. The liquidation of the Company does not eliminate the status of the Company's legal entity directly, the status of the new legal entity ends with the completion of liquidation and the liability of the liquidator is accepted by the General Meeting of Shareholders or the Court, by declaring bankruptcy, the company cannot carry out its activities and cannot even carry out transactions with other parties except for liquidation. The only activities that can be carried out are liquidation or settlement namely collecting receivables, calculating all company assets and all of them are sold to payoff the company's debts.
References
BUKU
Dijan Widijowati, 2012, Hukum Dagang, C.V Andi Offset, Yogyakarta
Jono, 2017, Hukum Kepailitan, Sinar Grafika, Jakarta, h.3
Yani, Ahmad & Widjaja, Gunawan (2000). Seri Hukum Bisnis Perseroan Terbatas. Raja Grafindo: Jakarta.
Gatot Supramono, 2009, Hukum Perseroan Terbatas, Cet.V, Djambatan, Jakarta.
JURNAL
Johari Santoso, Perseroan Terbatas Sebagai Institusi Kegiatan Ekonomi Yang Demokratis, Jurnal hukum No. 15 Vol. 7 Desember 2000; 194-203
Ardy Billy Lumowa, Tanggung Jawab Perusahaan Yang Dinyatakan Pailit Terhadap Pihak Ke Tiga, Lex Privatum, Vol 1/No. 3/Juli/2013 Hal 19
Budiono, Herlien (2012). Arah Pengaturan Undang-Undang Nomor 40 Tahun 2007 tentang Perseroan Terbatas dalam Menghadapi Era Global. Jurnal Rechts Vinding, 1(2).
Verti Tri Wahyuni, Kepemilikan Tunggal BAdan Hukum Perseroan Terbatas, Jurnal Hukum Novelty Vol 8 No 2, Agustus 2017.h 201-215 WEBSITE https://www.hukumonline.com/klinik/detail/ulasan/cl1266/kepailita/ diakses pada pukul 20.30
PERATURAN PERUNDANG-UNDANGAN
Undang-Undang Nomor 40 Tahun 2007 Tentang Perseroan Terbatas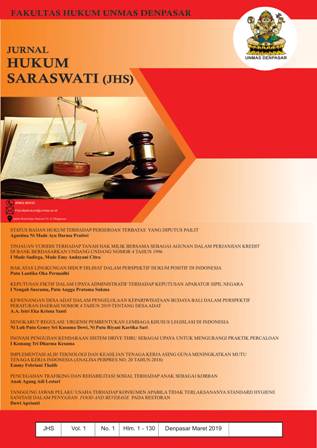 How to Cite
Pratiwi, A. N. M. A. D. (2019). STATUS BADAN HUKUM TERHADAP PERSEROAN TERBATAS YANG DIPUTUS PAILIT. Jurnal Hukum Saraswati (JHS), 1(1), 1-9. Retrieved from http://e-journal.unmas.ac.id/index.php/JHS/article/view/643